Welcome to the tablescapes of the HGTV SMARTHOME 2013 in the beautiful city of Jacksonville Beach on the Florida East Coast. Wow! What a lovely setting this unique "Smarthome" enjoys. Listen…I'm serious this home is quite smart.
Come on over across the bridge where you will be welcomed onto the front porch. While you visit with the ladies and gentlemen guiding your tour, look at the unique table on the porch and also the palm tree cut outs along the porch slats. Doesn't this invite you to enjoy the tour?
Bob and I were thrilled to be welcomed by these lovely residents, who were proud to show us around yesterday. Thanks to all of them for their Florida hospitality…we're loving it more each trip due to the fun people we've met. This photo takes my breath away each time I view it. Perhaps, it's because it says "welcome" without one sound.

Inside is fabulous….we stayed a good while taking it all in. Moving on….how do you like this breakfast bar and the place settings?
There's blue here for sure!
The formal dining has a great wall of continuous china cabinets. They are outstanding!

Bob and I especially liked the urn filled with flowers made of sea shells.
Notice the blue outdoor table that was painted with automobile paint according to one of the guides. Notice the great appliances in the outdoor kitchen…we loved it.
And last, but not least, you must see one of several kumquat trees planted just off the deck.
They looked yummy and appeared to be loving the sunshine. We are bringing home a souvenir of that sunshine…not fruit, but maybe a bit too much sun!
Please remember, that I'll be posting more photos of the upstairs and some additional photos from downstairs very soon. Hope you enjoyed and that you will want to take that trip to see this unique home…the HGTV Smarthome for 2013. I'll tell about the gadgets, that we all would love to have! Thanks for visiting.
Linking to the following parties this week: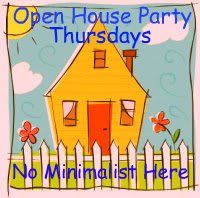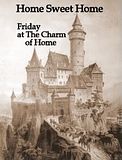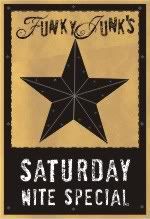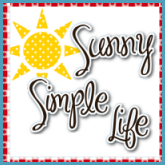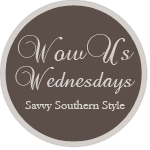 Savvy Southern Style
Surely some of you are shaking your heads and simply wondering how Helen ever left that beautiful tiered piece at The Galleries on Gordon in Chickamauga, Georgia, last week. Well, it's this way…or is it? Yes, I'd like to have it; however, I'm now really jewelry crazy, even though this beautiful piece would look marvelous with some gorgeous inexpensive jewels or the real things. If you truly love lots of bling…this ones for you! But hold on there are other pretties that caught my eye….more lamps, etc.

Just think what you could find back there with the antlers, etc.
Owls are really in this year….haven't you noticed them everywhere you go?

Now, those yellow tulips and matching lemons might be calling my name! They are really this gorgeous in the shop. I'm not kidding…they are wonderful.
Rooster cannisters and that squirrel pillow look great!


Pillows everywhere! The cute owl…yes, owls are back!


Now this rooster pillow steals the show!
Remember The Galleries on Gordon is a group of shops on Gordon Street in historic Chickamauga, Georgia, not far off Interstate 75 North. Also, it's about 18 miles South of Chattanooga, Tennessee…you don't want to miss this part of the South. It's great!

Hoping you'll enjoy visiting the bloggers' who have posted great photos and info below…I always enjoy their posts.
Thanks,
Helen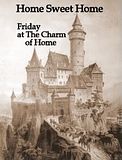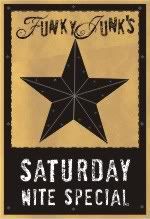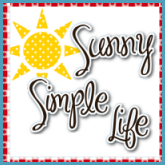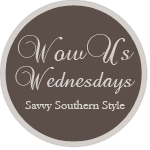 Welcome to historic Chickamauga, Georgia, located near Chattanooga, Tennessee. The quiet town is fun to explore and the battlefield is located not far from the heart of town. Chickamauga Battlefield has many cannons and is one of the nicest presentations, that I've seen….do keep that in mind if you enjoy historic tours. There are many grand homes, but not all are open for viewing. The photo above is a home that I was able to get riding by.
OK, the truth is that I was there to see the fun shops and ended up staying a long time in a delightful one named The Galleries on Gordon. It has loads of gorgeous items for your home, yourself and/or for gifts. And believe it or not…I found blue there, too. This is one of many shops and restaurants in this little town. It's a great place to start out and shop, then break for lunch, and shop some more. That day, I had already been several places, so I know I'll be returning to check out the other shops and also to return to The Galleries on Gordon. I very much enjoyed hearing about the town from Toni, at the Galleries. She is very helpful in the shop and also about places to dine or shop for antiques, etc.

The Galleries has many unique lamps and lamps are my thing! One can never have too many.

Take your time when you visit in order to see everything. You know you would not want to miss anything!
Keep looking and back tracking if you need to do so. I always go in all directions, when I'm taking it all in. Do you?
While shopping, I thought about all my friends, who love anything with a Fleur de Lis. See why?
I know many, who would love,love, love to have this red rooster with what is that blue? There's blue! Supposedly, I did not care for blue…and in the past 4 weeks I'm found blue everywhere I look. Loving blue again!

The yellow tulips looked real.

The artichokes were so perfect looking that you would think they were really fresh ones.
Notice the blue geese! Blue has really caught my attention. How about you…are you seeing blue everywhere, too?
Thanks for dropping by,
Helen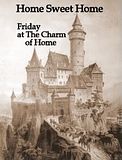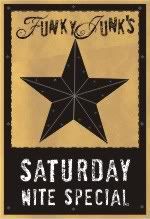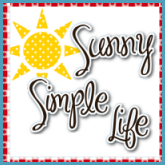 " />