Ross Dress For Less Keeps Us Shopping For Porch Decor
Hi everyone! Can you believe the quality of the decorative items many of us have found at Ross Dress For Less this spring and summer!!!! I know that sounded like a question, but it was a fact. This cup and saucer planter is perfect for a coffee table on your porch, deck or inside your home. Personally, I love it for the coffee table topper in our screened porch. This one is slightly under $15, and so lovely. The detail rim adds much to make it feel extra special. It's wanting to come home with me. I can hear Bob saying something like "we already have that Kirkland's Home monogrammed cup and saucer on the porch. Sometimes a girl needs more than one! Agree?
Tuesday is a great day to dash over to Ross Dress For Less…any day is…just Tuesday is the day they have the "Senior" discount. Regardless of whether you qualify for the discount, the deal is in the box here with this planter. If you are even half-way thinking you need this.. go early!
Learn from my procrastination. Here's the truth of my garden seat problem. I found the lovely green one and rather than bother anyone for help with it, I walked away! Returning in a panic a day later with Bob to help with it…it was gone. I've now shopped at both Ross Dress For Less in Cleveland and Chattanooga, Tennessee frequently the past month. This weekend we went to Huntsville, Alabama 2 days straight (that's another day's story to share) and I shopped for the green seat in both Ross stores in that gorgeous area! (Have I said, that Huntsville is one of my all time favorite places, that I am proud to have called home?) No green garden seat anywhere…so see it where you live and buy it..enjoy it!!!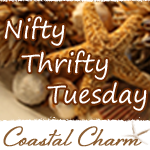 "