Shopping For The Flowers And Ferns For Summertime
Happy days have arrived…it's feeling great outside! Not only that, it's looking gorgeous with all the beautiful trees. Have I ever mentioned how much I adore leaves? Here's what is going on around our home. Bob and I could hardly wait to hit the nurseries to find the plants for this special summer. Here's a preview of what is coming soon to our deck, porch and maybe one or two hanging baskets.
Notice on the cart are lots of marigolds, impatiens, ferns…large and small ones. You name it, we checked it out. This year we are going with surprise or not…RED, WHITE, AND BLUE as our theme colors.
We can never get enough of the beautiful plants we love…just don't have time or space for much more than we loaded in my car Monday. We have found that the best things for getting our plants established and healthy is the Miracle Grow you see in our trunk. It's time released and prevents the plants from drying out. Love it! Once in a while we might be gone a week or a few days and we have always returned to healthy plants.
Look at that huge mess on our back screened porch. Hey! It's been cleaned once already! The pollen has been awful. Bob washed it down and we still have some around and in the air. You will see my old trusty plastic table…affectionately known as my "potting table" sitting right below that wonderful ceiling fan. It takes several hours to get the many kinds of plants divided and arranged into the 12 large deck boxes and one large pot along with several regular size pots. We did have to replace all 12 deck boxes this year.
Don't you just love Spring? This year we purchased Vinca, which is a new plant to us. We're planting it in the extra large empty pot you saw recently beside our gate…yes, the one with the red, white, and blue butterfly! We also are hanging a beautiful red geranium at the corner of our deck nearest the gate…actually from the overhang at the end of the house.
Hopefully next week, you will be able to see some progress on our porch!
Please remember all photos are clickable to see in a larger view…click twice. Also, please follow me on Linky Followers and post a comment here to let me know, so that I can follow you.
Below are links or buttons of the blog parties that I'll participate in this week. Thanks for visiting. Be sure to "grab my button" from my sidebar.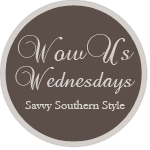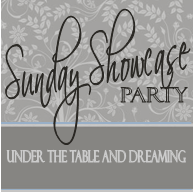 Blogs I enjoy are on my sidebar and below, too: