Shopping In Huntsville At Railroad Station Antiques
For best view, please click photo twice.)
Last weekend, Bob and I took a trip to Huntsville, Alabama, not just one day, but 2 days straight. Yes, we love it there, but we don't usually go there 2 days straight…actually never before last weekend.
The truth is that we have shopped there for many years and have enjoyed the items we have bought there. We actually counted up that we had made offers on this Chippendale Chest for over 2 years. Make it 2 1/2 years.
Each time the owner of the booth would not accept our offer. Saturday we came to an agreement on price…the one we wanted all along! We were unable to locate a truck rental to get it home and had to get one in Tennessee and therefore another trip. It is 43″ wide and the photo is one that I took Saturday in the booth. We're now in the process of cleaning it up really well and deciding the best spot in our family room for it. More later! Thanks to the staff at Railroad Station Antiques for loading it for us. You're the best!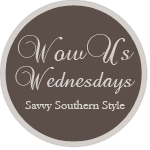 COASTAL CHARM NIFTY THRIFTY TUESDAY