Solving A Storage Problem

Hope everyone has had a great Monday! It's been a great day here at home in SE Tennessee! Such fun just to be at home! If you've followed me for a while, you must know by now, that I love to go and love to shop. Now, that certainly doesn't mean everything that's admired is bought…you must know that, too.
Here's what did come home with me as quickly as I laid eyes on them. First the basket, 'twas love at first sight. Of course, when I walked into TJ Maxx again, I fell upon this uniquely shaped double handled basket. It really was adorable…the shape, the handles, and height….everything needed for the master bath vanity.
I'm hoping you are paying close attention to this plan, yeah, the plan clicking through my brain. You know there was no way whatsoever in this world that I would walk away from that basket. I mean who finds a deep basket like that for $9.99? Have you ever? I know I haven't been so lucky to locate just exactly what I needed for the bathroom before that day. So, good ole TJ Maxx made my day at that one stop….and usually has something I buy or go home and rush back the next day, because I need it!
Remember Jean, don't you? For those who don't know, Jean is my sister who lives down in Georgia, and she taught me one very valuable lesson. Well, in this case, I have to admit she is right when she says, "sometimes a want becomes a need." Ladies, it works great and it truly justifies a lot of things I want. You know most things we want materially are not needs, but hang on. Jean explained to me that if I cannot get it off my mind, I need it!! I tease her about it now, telling her that I've told people that I must admit that sometimes she is absolutely right. The test really is whether I can sleep or not. A trival thing can keep me awake, if I want to get out early to shop before someone else grabs my treasure. Bottom line is that y'all know this basket came directly home with no waiting to justify it after sleeping on it!
Sincerely hoping you are wondering what that tall fanned out basket will hold. Well, I admit to teasing you a bit with that bouquet of fall flowers from Old Time Pottery, that you see wrapped in paper. The flowers are for fall, just not sure what room yet.
Well, take a good look at this purple, yes indeed, it is quite P-U-R-P-L-E in all it's beauty. Somehow, my camera did not want to show it as purple. Isn't purple one of the loveliest colors we have? At the time I happened upon this hairdryer in Costco, I was in desperate need for a new sturdy one. And the price was perfect for the strength and size this one has. In the cart it went…no sleeping on it. That day the price was perfect not to search further for a better deal. I knew the deal it was, but I didn't know how great it was until a few days later, I saw ones that were $20 more than they were at Costco! Costco rocks with this deal…I know, because I had looked a good while. It is like salons have, perhaps identical…not sure it is.
Just one tiny thing, that I did not realize about the hairdryer and that's that it does not fold down for packing or storing. Remember it looks like a salon dryer and my stylist has one that is possibly identical and it does not fold. So, there I was with this great dryer and realizing that it would not fit in the door rack in my vanity.
You must realize that the hairdryer was hidden down in the basket, when the photos were taken. Yea! It will not be found laying on that vanity top. No way…and truthfully, a floral arrangement would work well in it…yes, even with theInfiniti hairdryer stored in it. I'm now thinking Jean needs a basket just like mine!
Thanks for visiting and I'd love to hear from you about your purchases, too.
Parties I'm linking to today are shown below: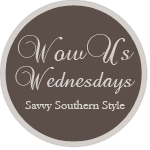 Life On Lakeshore Drive
A Stroll Thru Life