Using A Heart Shape For A Punch Ice Ring Bridal Shower
Let me first say that this shower was a long time ago, but it was such fun for me as the hostess for Lisa's shower. Fortunately, I had saved my copy of Southern Living magazine, that had a similar "ice ring"…of course it's not round! Oh well, y'all will love how I chose to simplify the design by using a tip learned from my mother about punch and serving it.
Many people make the ice ring out of water and then guess what happens if it begins to melt. Of course the water also waters down your tasty punch. Why would anyone want to lose that great punch flavor? Mother taught me to always use punch instead of water in making the "ice ring" and it works wonders.
The punch shown uses a quart of pineapple juice, 6 small cans of frozen lemonade, 3 packs of lemon Kool-Aid, and 3 small cans of orange juice. Be sure to add water and sugar to the Kool-Aid as usual. Make sure that you test this ahead of time to ensure any changes in contents or packaging over the years. I suggest doubling the recipe to ensure that you have enough for serving and for the heart shaped ring. Doubling would server between 40 to 50 guests.
I was stubborn and already had heart shaped cake pans, so rather than purchase a mold, a cake pan was my mold. Simply arrange sliced strawberries in the partially frozen punch, and return to the freezer. Don't forget to do that partial freeze, so that your strawberries are visible. Be careful not to get the strawberries too close to the outline of the pan/mold. It turned out well the first time, and the second time using this recipe for a family reception. Travelling for 2 hours made it necessary to be pack in an Igloo chest and it held up perfectly.
My friend, Cindy, helped me with the table arrangement of food and cups for Lisa's shower. Love the way she placed the cups on 2 sides of the bowl.
Rather than spend for paper plates, I opted to purchase 40 salad/dessert glass plates and used a pretty paper doily on each plate. The doilies had a solid center with the a lace outside. It helped hold the food and added a special celebration flair to the plates. At the time, they cost the same or less than the best, elegant paper plates would have. They are great for many occasions. Recently saw the Seabreeze pattern by Arcoroc at Walmart and also on Ebay.
Please join Linky Followers and follow me. Post here to let me know and I will follow you, too. More fun for all of us. Thanks so very much for dropping by. Helen
Linking to these blog parties this week! Enjoy!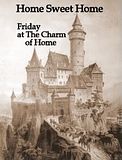 http://katherinescorner.com/2012/04/12/thursday-favorite-things-blog-hop-linky-party-31/