Getting Ready For Fall Gatherings
Welcome! Hope y'all are feeling excited over the coming month of September. Our family will be celebrating two birthdays about two weeks apart. Surely hope by mid-month we'll be seeing beautiful and colorful leaves of fall on the trees.
Actually, the first time our REALTOR, Linda, brought me to see our now home, the woods were filled with all the orange, yellow, red, and in between shades of leaves. Bob and I had been shopping in another subdivision about twenty-five miles away and decided we needed to try another area. That fall morning, almost 25 years ago, he was leaving for work at a nearby nuclear plant. Just before he left the temporary apartment, I asked if I found a house that caused "my socks to fall off" would he be able to meet me at the real estate office. He said, yes he thought he would. So, our day began just like that, and then the second house Linda drove to was the one that caught my attention. The acre of heavy woods was gorgeous to see. Yes, even with all those falling leaves, too. Suddenly Linda and I returned to her office and I called Bob. I simply said, "my socks fell off." Probably 40 minutes later we three were in Linda's car going to see our new home. Fall has meant a lot to me ever since those days.

Maybe that is one reason, I enjoy making our home ready for the season of colors! Now, think how lovely fall is and all the decorations you have enjoyed buying, making, receiving and sharing with your family and friends. When I shop this season of the year, I remember those days of hope for our new home. It's little wonder why I enjoy the decor at my favorite shops like Hobby Lobby, TJ Maxx, Ross-Dress-For-Less, Stein Mart, Marshall's, Kirkland's, HomeGoods, and World Market.

Notice, your warm welcome into Hobby Lobby, just as I recall their entry for the past 2 years or more. Always new fall merchandise to start getting us ready for the thrill of fall in every way.
Don't you love the topiary sitting down a bowl? And it's a good thing that I'm not the person responsible for selecting what any store should buy to sell. It's lovely wherever you feel it's perfect for your home and family.

If you are like I am, you might get overwhelmed with the new items and believe me there are many this season. Table runners, centerpieces, pumpkin plates, floral arrangements and tablecloths.
Have fun shopping and planning your season!
Thanks,
Helen
Here are a few of my favorite link parties: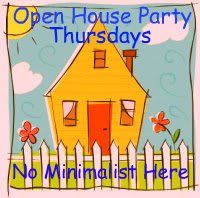 A Stroll Thru Life