Walking Right On Into The Dining Room
Welcome to my formal dining room and living room. I've been trying to decide if I am going to attack these 2 rooms. Part of me wants to tear into it and the old comfort zone tells me to leave it alone. Wanna have a chuckle? I just lost the long post I had ready to go….not so funny or fun, is it? Oh well, I won't cry over that error in my plan. The walls are painted a terra cotta, that I love, love, love! They previously were a pale green, that I did not care for at all. (You know there are lovely shades of pale green…I do love SW Cucumber.)
The English sideboard was bought while shopping with Betty on the 450 Mile Yard Sale a few years ago. If you've been reading my posts recently Betty's mantle was featured in two. I mentioned that we had shopped our way from Tennessee to Texas and back….now believe it! That 450 Mile Yard Sale is something else.
Suddenly, I accidentally bought two corner china cabinets as I was trying to sell my old dining room furniture to the owner of the shop that had the corner china cabinets. Haven't y'all "accidentally" bought something?
Oops back to the sideboard..I ended up getting the camera out and making lots of photos to show Bob. Quickly, I called the seller, and said we would be back for the sideboard. Now, it is definitely finished lighter than the other dining room pieces. One day…who knows…maybe some Annie Sloan Chalk paint will be on that thing. It wasn't super expensive, so I convinced Bob to cut a hole out of the back of the right end cabinet. Yes, at first he thought I was crazy…"cut into this sideboard". Then I explained my plan to have our Bose system inside that right cabinet, hidden and playing out of view. No regrets on that at all.

The table was found in North Carolina for a fraction of the cost, of the identical table in our local area. The six side chairs and two arm chairs are Chippendale ball and claw footed. They came with a rather ugly fabric, that I had plans for as soon as I saw the chairs. What I didn't plan on was the broken wrist with 3 pins in it…so I had to wait for that to heal. I had never covered a seat. Right away, I got a power staple gun and was ready when I had enought strength in my hands.
I found the remnant fabric at a bargain price on another trip to Nashville….love that city. Also, found the mirror over the sideboard at Black Lion at Opry Mills. It jumped off the wall at me and I had to have it. Some would not like it mixed with the Colonial Williamsburg style furniture, but Bob and I do. Some would not like the wrought iron end table with a glass top, that we use as a tea table in front of the living room sofa.
We changed out the antique brass chandelier for the solid brass one with more lights. Hope you enjoy looking and feel free to ask about anything I have not mentioned. Remember, I lost my first draft!
I'll be adding the websites of the blogs, that I'm linking to this week soon. Thanks for stopping by.
Blogs, I'll be visiting this week are: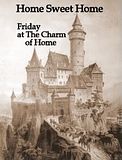 http://piecedpastimes.blogspot.com/2012/02/linky-party-follower-hop.html
http://whitewolfsummitfarmgirl.blogspot.com/